Blog: Does Your Institution Embrace Equity?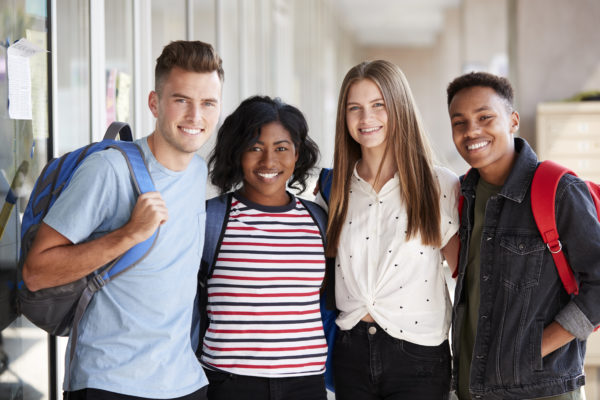 Ensuring equity in education is a social and moral imperative. Educators need to most effectively maximize all peoples' talents – regardless of race/ethnicity, socioeconomic status, nationality, and gender – to support the nation's economy and ensure financial mobility and security for all. For education, this means ensuring that we break down barriers that result in unequal education access, attainment and outcomes and, thus, inequities in workforce opportunities.
Diversity ≠ Equity
Caution! Just because your institution's student enrollments may be diverse, does not necessarily mean that students have equal access to services and high mobility programs, or academic outcomes are equal across student populations.
Equity ≠ Equality
Equality aims to promote fairness, but it can only work if everyone starts from the same place and needs the same help. Equity actively moves everyone closer to success by leveling the playing field. Equity is ensuring everyone has what they need to be successful, while equality is treating everyone the same. To achieve equality in outcomes, for example, equal graduation rates across student populations, we need to fix systemic obstacles that result in inequities – we cannot change individual differences.
How Do We Know?
ASA Research recently conducted an equity-focused workshop for a set of over 20 community colleges. We focused on 4 questions from a survey developed by the Center for Urban Education to assess campus equity-mindedness and kick off the conversation:
Do you have a set of racial equity indicators and goals that you monitor regularly?
Does your campus publish an annual report on the state of equity?
Would your campus leadership be open to routinely examine practices, policies, and programs to determine if they are equitable?
Would your VP of Academic Affairs, Deans, & Chairs be open to engaging with faculty to examine equity of course-level data, syllabi, conduct classroom observations, etc.? [1]
Notably, just one institution answered "yes" to any of the above questions.
Sources of Inequity
The Great Schools Partnership, a nonprofit working to redesign public education and improve learning for all students, relates a number of inequities that can occur in education.[2] Some education-related inequities are "person-centric," or those that are related to an individual's background or characteristics, while other inequities result from systems or processes inherent in programs and practices and are "institution-centric". Any one of the individual types of inequities may occur, or several can operate in tandem with one another. Regardless of their source, inequities can adversely affect access to education, learning, academic achievement, educational aspirations, and labor force opportunities.
Develop a Framework to Examine for Inequity
ASA Research advocates for institutions to examine their process, programs and strategies across the spectrum of touchpoints and the entire student experience to examine for potential inequities. Processes designed without consideration for potential inequities can result in unequal outcomes in access to education, learning acquisition, or academic achievement at any point in a student's academic pathway. Examining behaviors and outcomes across the student experience allows for the identification of unintentional but systemic barriers that may be rooted in current policies, programs and practices and result in inequitable opportunity. Barriers can arise from a myriad of sources including scheduling, pedagogy, instruction, communications, service delivery, support services, advising, assessments, etc.
Ensuring equity begins with equal access to education. Do all students receive information early-on about possibilities—careers, academics, financial assistance—and understand that access to high mobility careers are possible for them? Education about financial aid is important. Do students have access to financial support and are they applying for aid that they will need so that they can, for example, remain in classes? Consider whether students from low-income and immigrant families have proper and accurate information about student aid. For example, some students may be afraid of completing the FAFSA due to perceived legal or immigration ramifications. Some families and cultures are financially risk-adverse and do not want to accumulate loans; without proper information about financial aid, these students often leave grant aid on the table.
Ensuring equity in access continues with an early connection with the institution. College access equity within an institution refers to the extent to which students gain information and access to the institution's programs, along with services that support and allow individuals to pursue postsecondary education. Research shows that students who declare a major early receive the benefit of more intensive advising, are part of an identifiable academic community, have access to faculty in their specific field, and have access to peer networks and events—benefits and supports which are not as available for students who do not declare a major.[3]Having access to these communities and resources likely results in increased engagement and academic performance.
Historically underrepresented minority students are more likely to enroll in developmental courses than others, and the more developmental courses a student takes, the less likelihood there is that he or she will complete a credential.[4]Thus, examine placement tests and policies for structural barriers to equity (e.g., does the assessment contain language barriers?) and course content delivery and structure (e.g., corequisites vs. prerequisites; diversity sensitivity). For example, remarking about a scholarship program to train and advance Hispanic nurses to the next level, a scholarship coordinator stated "The biggest challenge for these nurses hands down is language. Although many of the nurses speak English fluently, some need formal language courses to prepare them for passing the reading and writing portions of the English proficiency examination."[5]
Ensuring equity continues with equal credit production and academic achievement. This is particularly important in gateway courses and persistence, and reenrollment in highly mobile major fields. Understand the patterns and behaviors of their various student populations. Persistence is important to achieve academic goals, however, to ensure equity, students of all populations need to persist in high mobility fields, rather than transferring to fields that result in lower-paying jobs. And, equal "quality" of academic achievement (e.g., GPA) will help to ensure equal transfer-access to highly competitive programs and equal labor market outcomes.
Finally, ensuring equity continues with equal shares of students across populations completing credentials. This is particularly important in high mobility degrees and with equal academic achievement, transfer and employment opportunities. The ultimate goal is to ensure that all students have equal opportunities in the workforce, and equal transfer opportunities to highly selective and high mobility programs. Institutions need to examine not only completion rates, particularly in identified high-mobility programs, but also examine for variation in the academic achievement of students. Equity occurs when all students have the same access to opportunity, such as the ability to transfer into selective programs and institutions. Research shows that most students who transfer to highly selective institutions are from the highest socioeconomic status (SES) families, while only a few students from the lowest SES families transfer to the highest prestige institutions. Further, the share of lowest SES students increases among student transfers to institutions of lesser selectivity.[6]And, of course, identifying the presence of employment and wage jobs across various student populations is of interest; however, data access is sometimes restricted.
Need Help?
ASA Research can help your institution with equity conversations and analysis. We can assist as you develop your framework to examine processes, policies, and data, and create data visualizations and communications to support campus-wide conversations to identify where equity gaps may occur, all with the final goal of breaking down barriers to achieve equal outcomes for all students.
---
Endnotes
[1]"Developing a Practice of Equity-Minded Indicators." University of Southern California, Center Urban Education. View here.
[2]Ibid.
[3]Dowd, A. C., et al. (2018). "Bringing Accountability to Life How Savvy Data Users Find the 'Actionable N' to Improve Equity and Sustainability in Higher Education," Viewpoints: Voices from the Field. Washington, DC: American Council on Education. View Here.
[4] Adelman, C. (1996). "The truth about remedial work: It's more complex than windy rhetoric and simple solutions suggest," Chronicle of Higher Education. View Here.
[5]Springer Publishing Company. (2013). "Recruiting and Retaining Hispanic Nursing Students," Minority Nurse. View Here.
[6]Dowd, A. (2010). "Improving Transfer Access for Low-Income Community College Students," Recognizing and Serving Low-Income Students in Higher Education: An Examination of Institutional Policies, Practices and Culture. Ed. Adrianna Kezar. Pp. 217-221. View Here.