New ASA Issue Brief: Completion by Design/Frontier Institutional Transformation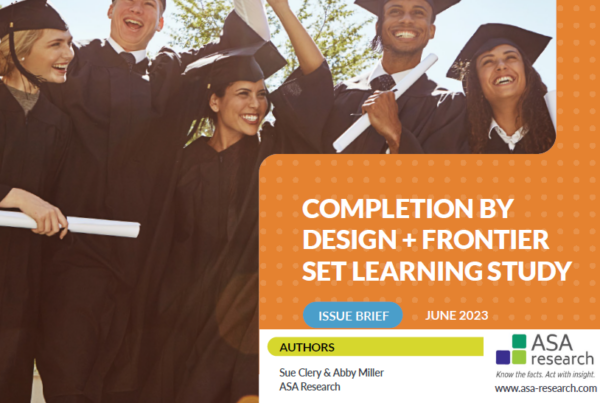 This issue brief, in partnership with VentureWell and funded by the Bill & Melinda Gates Foundation (the foundation), explores institutional transformation and equity journeys at six community colleges that participated in the foundation's Completion by Design (CBD) and Frontier Set (FS) initiatives.
Through interviews and documentation review, this retrospective analysis focuses on factors that enabled institutional transformation, the evolution of equity, and how the CBD/FS frameworks influenced policies and practices related to closing racial equity gaps.
Among the study's highlights:
All six colleges reported "Yes" their institution transformed over the 10 years of study, and "No" their work is not done; the transformation process is ongoing: "This isn't something we are doing; this is something we are becoming."
CBD and FS helped accelerate the colleges' transformation process, particularly the Loss-Momentum Framework, network, and Intermediary model.
Transformation milestones included campus-wide cultural and structural contexts such as achieving buy-in regarding the need for change; a strong data culture; and effective communication structures.
Resoundingly, people – including leadership, champions, and engaged faculty – are the center of conditions that need to be in place for transformation to occur.
As with transformation, equity journeys are ongoing: "We've made a lot of progress but we're still not there yet."
FS played a critical role in the colleges' equity journeys through positive peer pressure, disaggregating data, incorporating equity language into strategic plans, and adopting new policies and practices to support students of color.
Read more about how these colleges transformed in the issue brief.