NACAC Blog: Unequal Distribution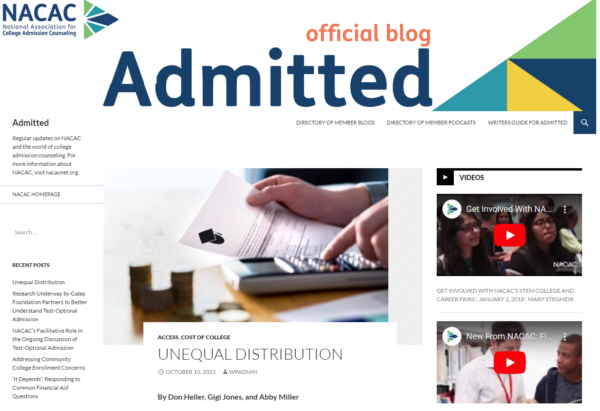 Higher Education financial aid experts Don Heller and Gigi Jones, along with ASA Partner Abby Miller, co-authored a blog for NACAC about the inequities in institutional aid.
Among the findings in this analysis of newly released National Postsecondary Student Aid Study (NPSAS) data include:
Both merit-based AND need-based grants are larger for higher-income students, and the awards increase incrementally with each income quartile.
The disparity in merit-based institutional aid award has persisted – and widened – over time.
Twelve percent of students in the highest-income quartile receive need-based grants 
White students are the most likely to receive institutional merit-based aid, and receive higher awards than Black, Hispanic, and Asian students
Questions for institutions to consider include: Are merit-based scholarships intended to boost a college's rankings by luring the highest achieving students? What if institutions shifted these dollars to students who truly need financial assistance to attend college?