Data Guides: ASA Tools to Support Strategic Data Use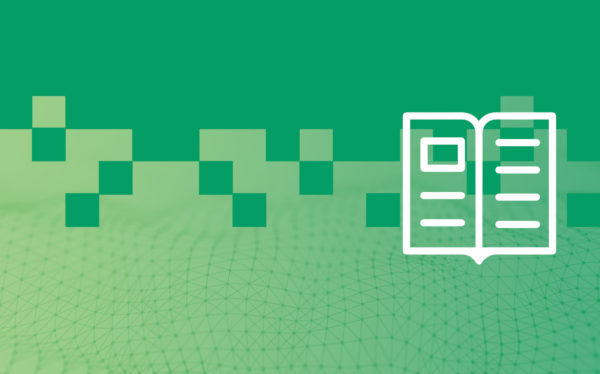 ASA helps campus teams use student data strategically through workshops and data coaching services. Through funding in part from Strong Start to Finish, ASA is releasing tools, guides, and templates that we use in our strategic data use workshops.
Does your campus team need to organize your data work around student success?
Are you having trouble figuring out where to get started so that you can identify motivators and barriers to student success and where policy or program change is needed?
Perhaps you have a new policy in place, how do you know if it is working?
Do all stakeholders have the right data at the right time so they can act effectively?
Feel free to use the resources below on your own to support your strategic data work, or schedule a workshop with ASA Research.
Click the guides below to learn how to make your data work harder for you!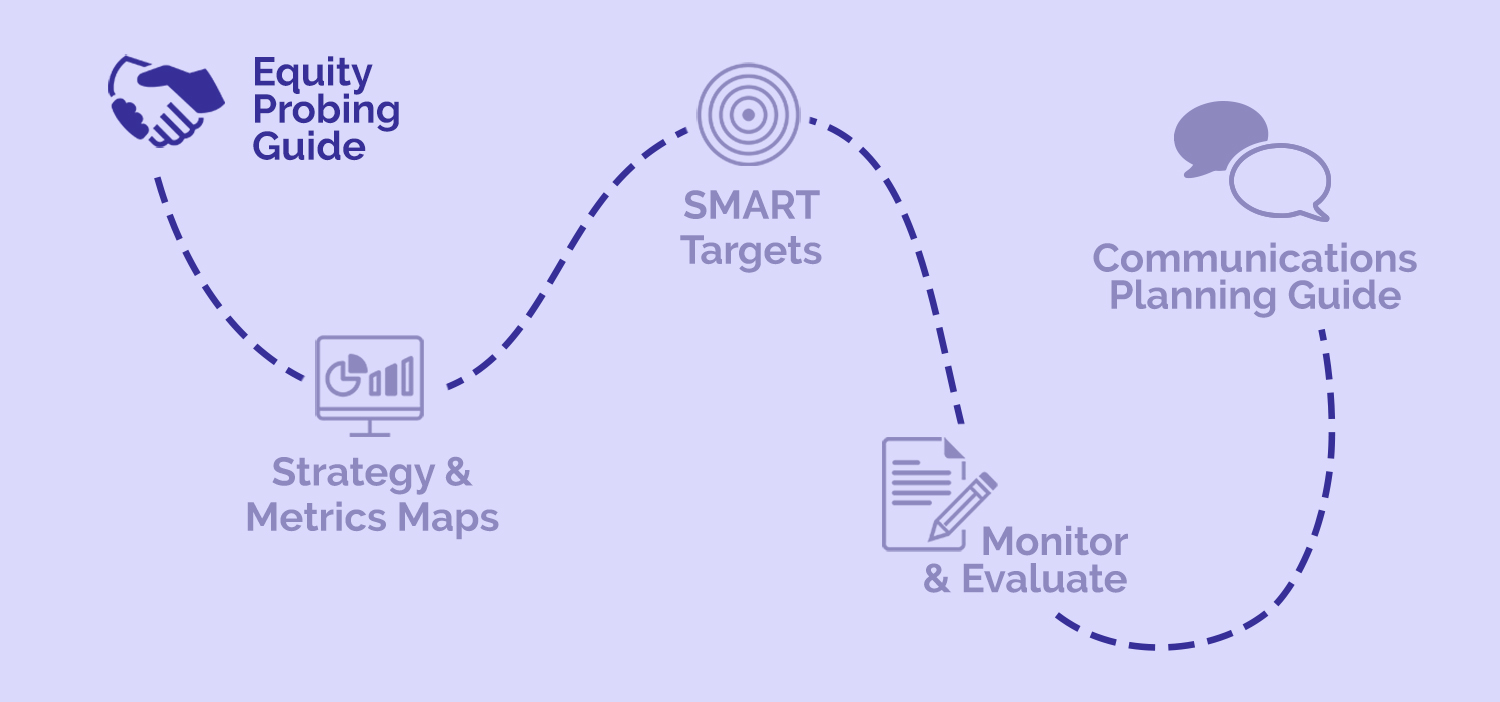 Click the guides below to learn how to make your data work harder for you!



Scroll to read our stories
Equity Probing Guide
"I'd like to be able to understand how our diverse student populations feel they belong, what barriers they face, but I don't have any data to tell me who these students are."
ASA's Equity Probing Guide provides tips to conduct an equity inquiry to:
Assess trends and identify patterns in your institution's KPIs.
Prompt questions to deepen your team's equity inquiry.
Spark conversation across campus about equity.
ASA's Equity Probing Guide includes questions that cover the spectrum of student touchpoints, from interest and connection through labor force entry.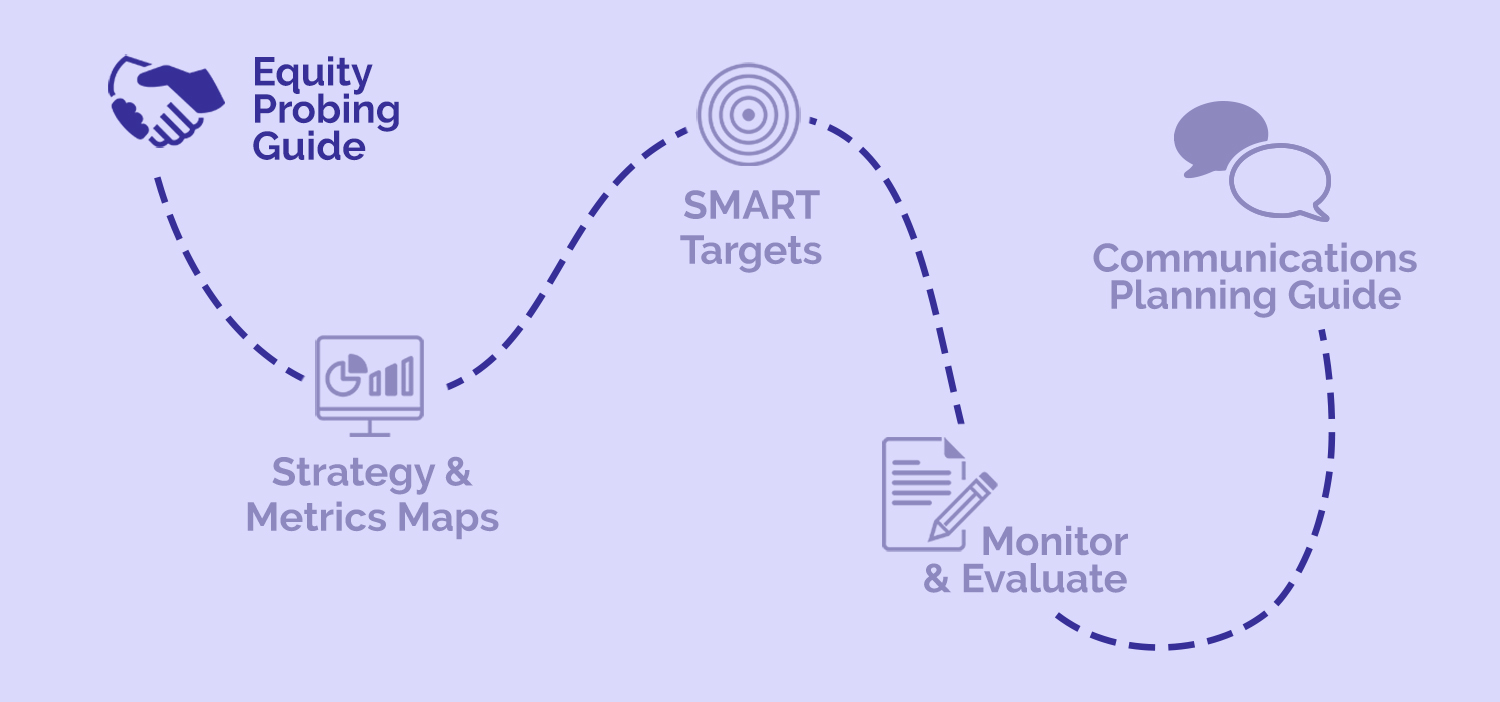 Strategy and Metrics Map
Where Do You Want to Be? How Can You Get There?
ASA's Strategy and Metrics Map Tool is a visual framework that supports evidenced-based decision making and illustrates how strategies and programs move student behaviors and outcomes.
This ASA Tool…
Helps to create maps that visualize the linkages between your institution's programs, policies, and strategies and your key performance indicators.
Illustrates your institution's ability to "move the needle" based on your activities.
Facilitates target setting.
Is a pre-cursor to developing a monitoring and assessment plan.
Helps to set up a communications plan and to tell your story.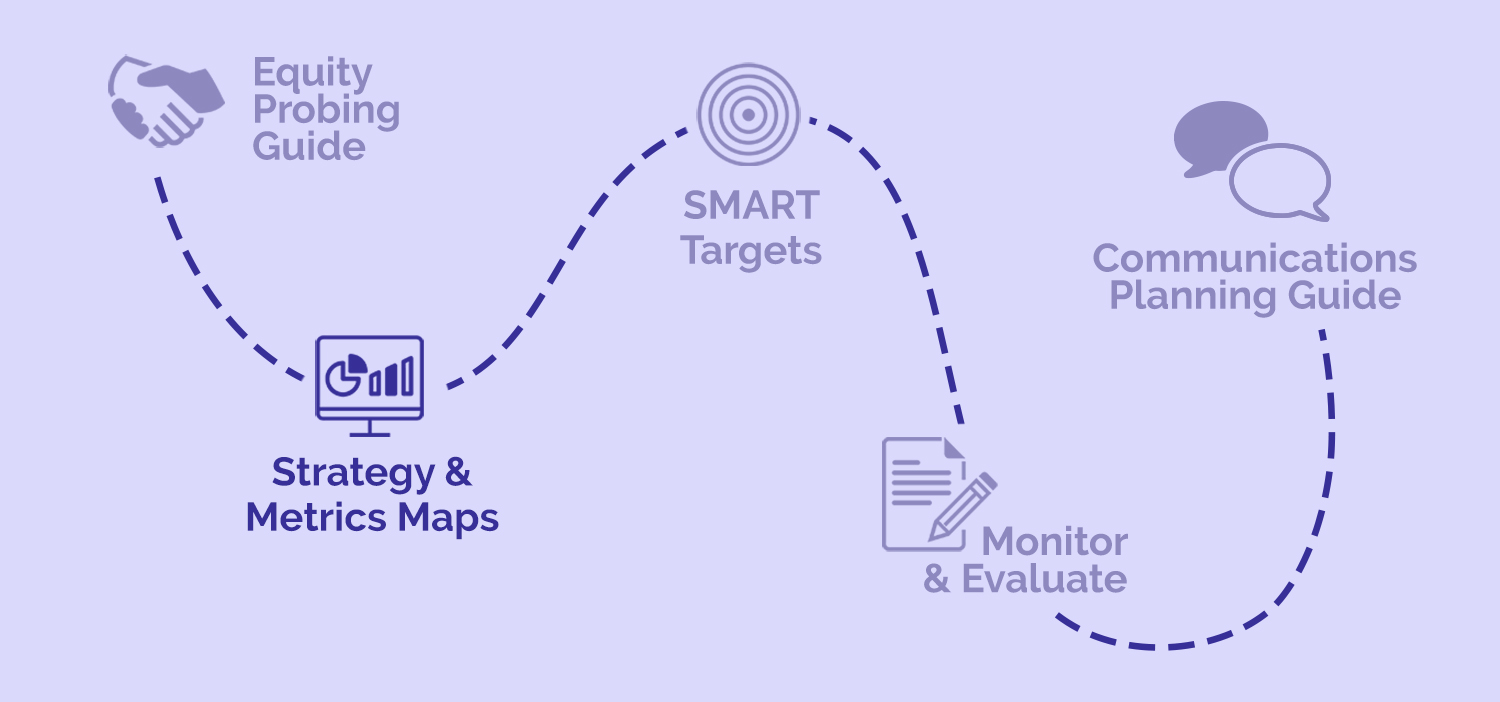 SMART Target Setting Guide
Status quo policies = Status quo outcomes
Using the SMART model – a widely used framework resulting in well-defined targets – the ASA Target Setting Guide helps to take the guesswork out of target setting and supports campus teams to establish appropriate targets that are…
Specific
Measurable
Attainable
Relevant
Timebound
…and supportive of your student success work.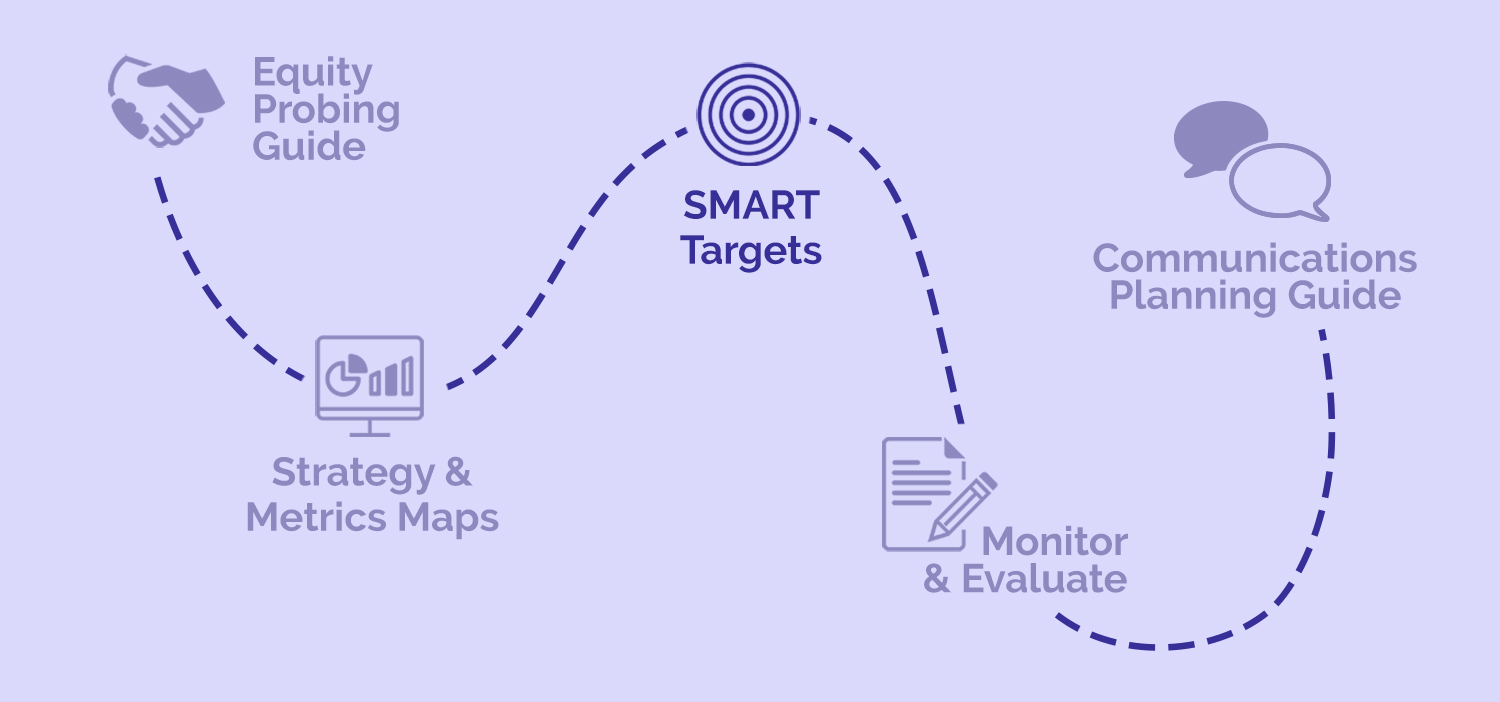 Monitoring and Evaluation Planning
Without monitoring and evaluation, you can't make strategic and effective change.
ASA's M&E Planning toolkit supports campus teams as you develop a plan to assess your student success strategies and initiatives. ASA's toolkit contains guides and example templates to support each step of the M&E planning process – whether you are developing a monitoring plan to assess whether you are doing the work right, or an evaluation plan to assess whether you are doing the right work.  
Following these steps…
Where to start.
Define your indicators.
Define data collection methods, schedule, roles and responsibilities.
Create an analysis and reporting plan.
Campus teams can jump in where they are in the M&E planning process, whether just starting out to develop an M&E plan, in the midst of planning, or executing a completed plan.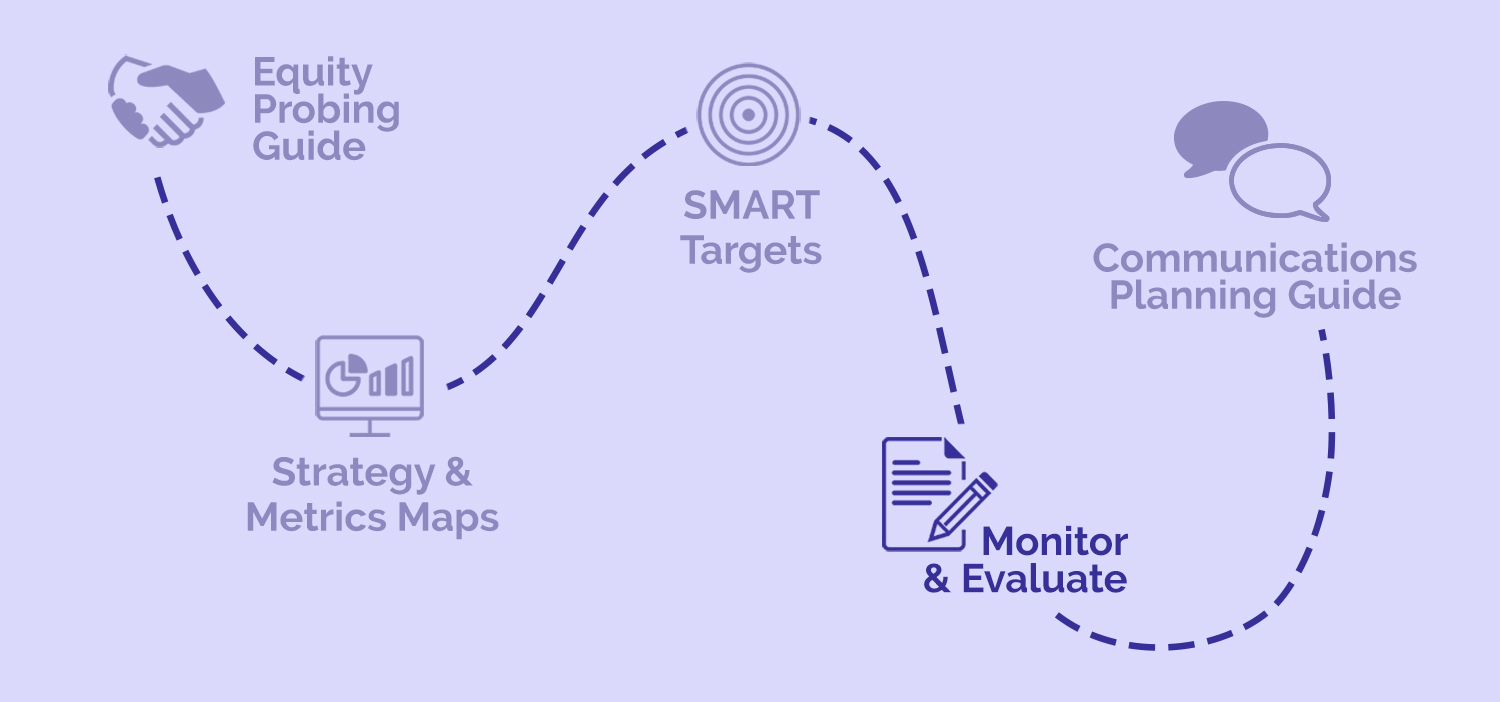 Data Communications Planning Guide
Without Facts, You Cannot Act.
ASA's Data Communications Planning Guide provides tips and a framework for developing a data communications plan for your campus. A campus with a strong data communications plan benefits by…
using data widely across campus.developing a shared understanding of data definitions and student outcomes.
busting myths and removing bias from decision making.
instilling common and collaborative goals.
making strategic decisions based on the entire story.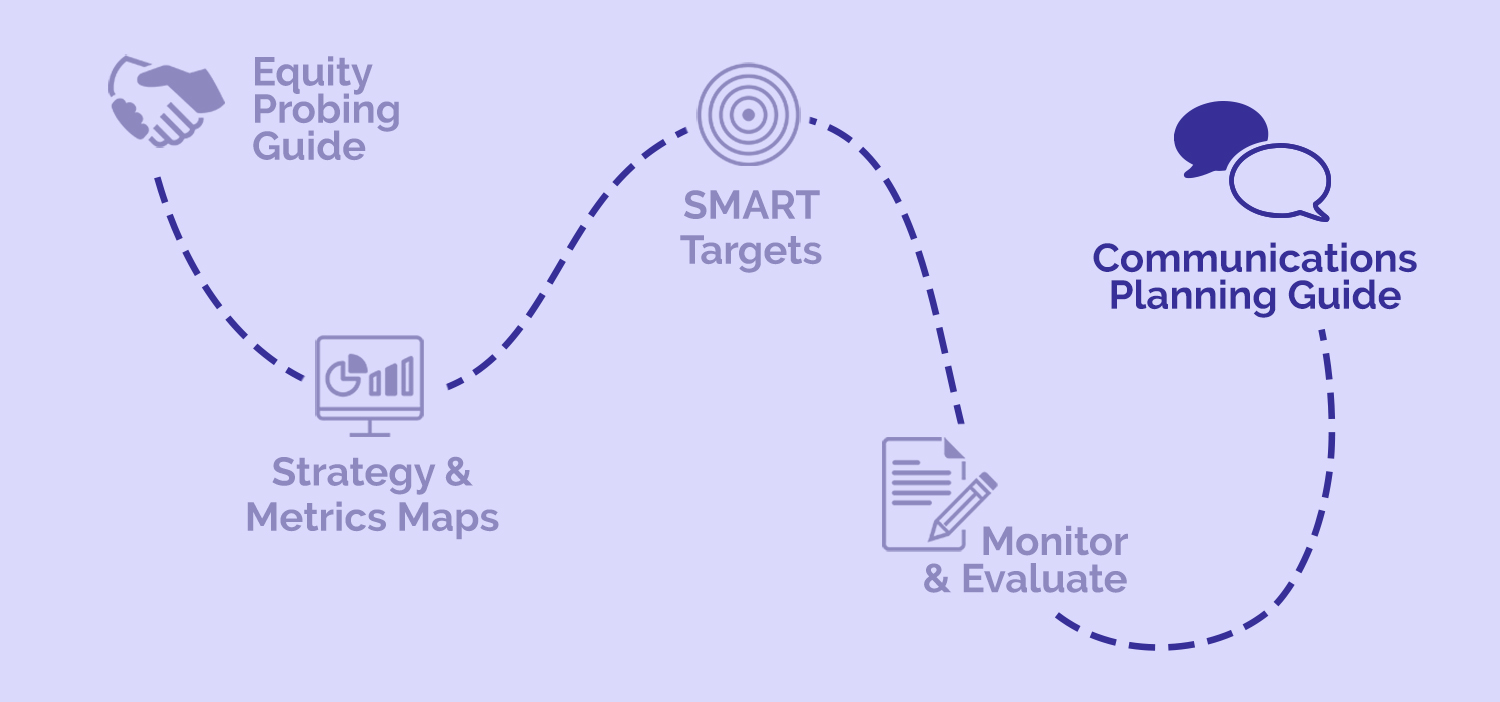 Through interactive workshops, webinars, and guided conversations, ASA helps colleges and systems drive change by arming them with customized models, guides, and tools. Example workshop topics include:
Identifying equity gaps, motivators, facilitators, and barriers to student success.
Understanding how current and new programs, policies, and strategies can "move the needle" on student success metrics.
Setting targets to help focus work and ensure efficient operations.
Implementing an evaluation or monitoring plan to assess the progress of your strategies.
Developing a communications plan to ensure that all stakeholders have the right data, when they need it and tell your story.
Contact ASA Research if you are interested in a workshop or webinar for your team.
We received support for this project through funding from Strong Start to Finish.